School Parliament
What does a School Parliament do?
At Parkfield Community School, our School Parliament represents the children in each of our classes. The Councillors have been elected by their classmates, to best express the views and issues that arise in day-to-day school life. The School Councillor's role is to express the views of fellow classmates and to discuss ideas that have been raised.
In our school parliament meetings we discuss ways of making Parkfield School a better place to be. After a school parliament meeting it is our job to feedback to our class and teachers.
Sometimes guests are invited to our meetings so that they can listen to ideas and suggestions from Parkfield's Pupils. At times we are given questions to ask and discuss, and then we share these with our class. We write important things down in our special School Parliament book and take the book to every meeting.
At Parkfield School, we hope we are helping to develop life skills. We believe that by contributing their views and expressing their feelings, pupils will be able to voice opinions and find solutions to everyday problems as they grow up. 
Our School Parliament realise the role they have is an extremely important one and that they need to try and be a good role-model for their classmates. Therefore it is very important that we always try our best to make good choices and do our best in our learning.
School Parliament 2021-22
| | |
| --- | --- |
| Class | Members of Parliament |
| 1B |   |
| 1J | Azeezah & Adam |
| 1P |  Faizah Hussain and Jamil Elmi |
| 2B | Manha Aafrin & Azeem Hussein |
| 2J | Nahima Raida & Ibrahim Ikhlaq |
| 2LD | Anayah Shakeel & Atal Safi |
| 3B | Judy Sala & Amir Ahmed |
| 3C | Sofia Sidiqi and Yousif Othman |
| 3F | Skylar Hennessey and Anas Mamundy |
| 3S | Sarah Lupasku and  Aayan Kayani |
| 4B | Haney Ali & Rihan Uddin |
| 4F | Humayra Salu & Musa Muhammed |
| 4OS | Haleemah Begum and Muhammad Ibrahim |
| 5B | Rehana Bibi and Adam Ahmed |
| 5R | Zainab Butt and Yousaf Iqbal |
| 5W | Inayah Begum & Haseeb Muhammed |
| 6K | Sara Munawar and Mustafa Khursheed |
| 6P | Imani-Jada Dable & Ahsan Saqib |
| 6SB | Tasnim Hussain and Ibrahim Mohammed |
Our School Councillors' visit London 
On Thursday 12th September 2019, our School Council, accompanied by Miss Arif, Mrs Evans and Mrs Cornwall visited London. It was an extremely busy and long day. (We left school at 7am and returned at 7.30pm!) We went on the minibus to New St Station and then caught the train to London. We used the underground tube to travel around London. The purpose of the visit was to see how democracy works at the highest level. We visited The Houses of Parliament to learn more about how Great Britain is run. We were lucky enough to go inside the chambers at the House of Commons and the House of Lords. We also met up with the School Council of one of our partner schools (Colmers Farm Primary) while we were there. This is the school where Mr Williams is now Head, so it was nice to see him with his new school. Both schools took part in a live debate at the Education Centre of the building. 
 
We were also lucky enough to visit Westminster Abbey (which is a royal church where many of The Royal family have been married, including Prince William and Kate Middleton.) There are also many kings and queens from the past who have been laid to rest there as well as other famous personalities including Isaac Newton and Charles Dickens. We saw the tomb of Mary Queen of Scots (who became Queen of Scotland when she was just six days old after her father died in battle) as well as tombs of other famous people in British History. 
 
We had our lunch overlooking The River Thames and The London Eye. Although it was slightly overcast, the rain stayed away! We also visited Trafalgar Square, Horse Guards Parade and had our picture taken outside Buckingham Palace! We had a lovely walk through St James's Park which is one of the royal parks in London. The whole trip was an amazing experience, but the best part was our visit to Downing Street. We even had our picture taken outside Number 10 (where the Prime Minister Boris Johnson lives). Many people were looking at us with surprise and envy as most of the public are not allowed there.  
 
The day was fantastic, and despite our tiredness, we were praised by so many people for our excellent behaviour. We walked a total of 4.5hrs, and took 21,345 steps! Everybody slept well that night.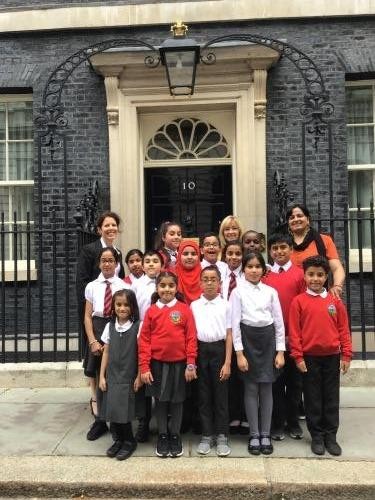 School Council 2019-20 
Year 3  
3C Inayah Begum  
Muhammad Iqbal 
3D Majid Aljdeatawey 
Aaisha Ahmed 
3R Swaibba Sana   
Huda Gaffar 
 
Year 4 
4KM Anas Mohammed  
Alina Ali 
4M Hasnain Muhammad   
Mustafa Khursheed 
4O Tasneem Hussain  
Ibrahim Mohammed 
 
Year 5 
5B Aayan Habib  
Ruqaya Razwaan 
5J Ali Hussain   
Aaminah Mubeen 
5NB Hajrah Nawaz   
Iqra Afzal 
5W Mohamed Yusuf  
Summar Nosheen 
 
Year 6 
6B Saima Begum  
Armaan Manir 
6K Aqsa Rafique  
Anhaar Ishak 
6P Medina Naz  
Aminah Noman 
6S Humayra Rahman 
Arifah Begum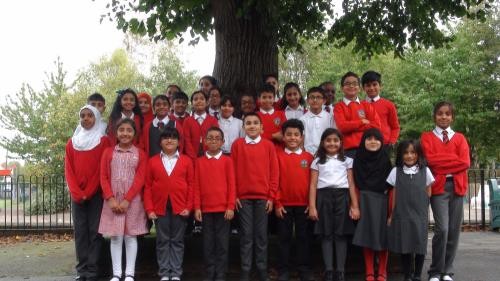 Key Roles within our School Council
Chair of School Council 
Hello, I'm Medina and I am in Year 6. I was thrilled to discover I had been elected as the Chair of School Council. I believe the other councillors voted for me because I am responsible. I work well in a team and I am mature. I am grateful to all the amazing councillors that voted for my speech. In my role, I hope to meet and greet visitors to our school. I hope to help the staff with organising special events and doing the job as best as I can. I look forward to working with the Vice-Chairpersons as well as the rest of the School Council. 
 
Vice-Chairperson 
Hi, my name is Aqsa, I am in Year 6. I am so happy to be picked as the Vice-Chairperson along with Humayra. I think the other councillors made the right choicer as I am responsible and respectful. I always listen well and never disobey adults. I have a good relationship with the Chairperson and other Vice-Chairperson. I believe we will all work well together to make our School Council the best. 
 
Vice-Chairperson 
My name is Humayra and I am in Year 6. Whilst I was a little disappointed at not being chosen as the Chairperson, I am still excited about my role as Vice-Chairperson. I am happy for the Chairperson and hope to work with Aqsa and Medina to make our School Council have a brilliant year. I am looking forward to showing visitors around school and talking to them. I am grateful for this opportunity. 
 
Clerk 
I am Saima and I am in Year 6. It was a surprise to find out I was elected as the Clerk of the School Council. I am looking forward to working with the other councillors as well as staff in my new role. I am very good at organising things and will have to take notes at each meeting. I will also have to help the Chair and Vice-Chairpersons to let the other children know of special events/activities happening in school. I am excited about this opportunity.  
Minutes of School Council Meetings